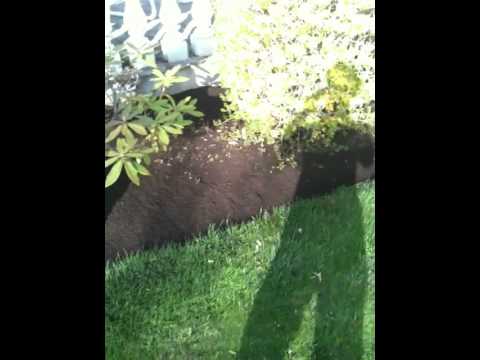 Bed Mulching
Make bed mulching simple with BXS. We deliver and install various mulch varieties tailored to suit your bedding needs, with our unique bowing installation, we can even work around existing plant material without causing plant damage. This is a great choice for garden lovers and home owners who don't want to deal with the hassle of using a traditional wheel barrel and shovel.
Mulch Varieties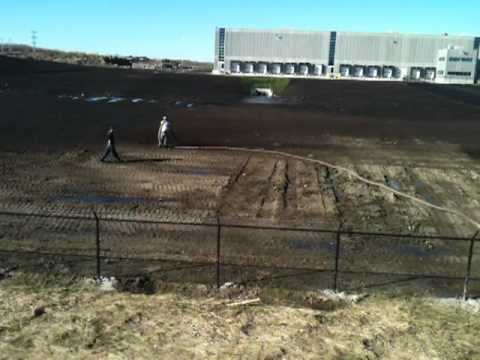 Terraseeding
With the Terraseeding system the seed is embedded throughout the depth of the soil, which allows for a much better germination rate. This allows for a bright and full lawn that, that has a strong root system for stronger growth and longevity versus traditional seeding techniques, which only allow seeding on the top layer. Using organic soils with composted materials bring's seed to life much quicker, the secret to Terraseeding is the right combination of both, with ample watering to activate the seed into growth.
Top Dressing
With our Patented Terra Seeding system the soil and seed are mixed right in the truck to the optimal mixture allowing the seed to not only catch quicker, the seed is embedded deep within the soil for a picture perfect lawn.  Have you lawn aeration completed before topdressing for even better results
Pea Stone
Fill your beds around the pool with no spilling or mess. With Blower Xpress placement of stone can be done in areas close to water without the risk of spillage.
Planting soils
For the Garden lover that demands the best planting soils. No more wheelbarrows! Now we can blow soil into those hard to reach places, thick or thin you decide we take care of the rest.
Playground Chips
with Blower Xpress playground Chipinstallation is done in one simple step, there is no time wasted leveling off the surface and the hours required to get the product into the playground, Both are done simultaneously through our Pneumatic application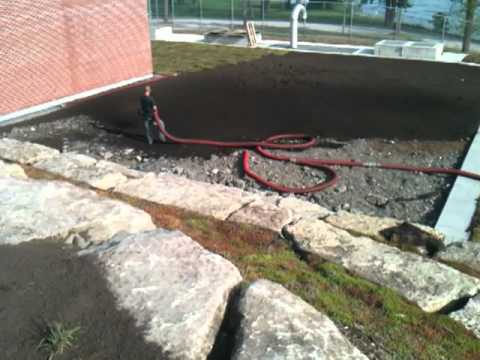 Green Roofs
Green roof installation is becoming a standard in ecofriendly construction projects. The main setback in both small and large green roof installations is the cost of getting materials up onto the roof. With Blower Xpress installation of lightweight soils, mulch, and aggregates is easy. Our installation methods not only get the products up on the roof, but also spreads and grades them at the same time. Other installation methods involve craning products up one bucket at a time, which requires machines to load, men to watch, and additional labour to install. This method is not only more costly to the project, but also more labour and machine intensive. Traditional Green roof installation also adds to construction site clutter, lane closures, and often limits traffic flow within the area.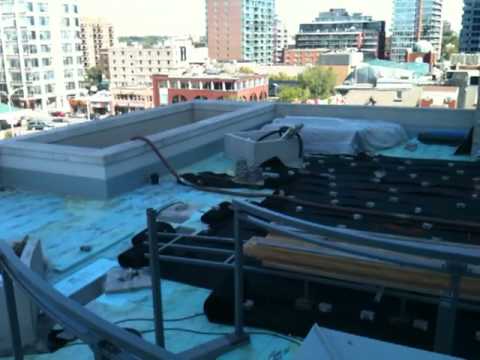 Aggregates
When dealing with limited access areas, Blower Xpress has the solution. Our blower truck allows us to place aggregates that are up to ¾ inch on rooftops and hard to reach areas, where equipment access slows down job production. For your next interloc job call BXS to blow in your base materials, so you can spend your efforts installing rather than wheel barrowing.